Jude and I are going over final mix candidates now and trying to polish the track to a lustrous shine, but yes — since "Halo" just came out in March, there will be two PSwap tracks in as many months. We did not make you wait a year for our next song. Can you believe it? We cannot. It is unbelievable.
This new song will have a few things that are new for us. First, it's technically part of someone else's larger project, but even out of that context, it stands as its own song. (That said, if they are not ready, we are holding the release of our song until their project goes live. We are big fans and we are proud to support their special project.) And second, we will have one of those single-slide videos on YouTube the day we release the song. When we saw Weird Al do a one-frame video for his last song (his very awesome parody of T.I.'s "Whatever You Like"), we realized there's no shame in it. "Halo" showed us that if we don't do this ourselves, other people will get into a pissing match over who heard the song first, and they may even try to take credit for it. So, yeah, we'll do that, thanks. After all, iMovie ain't that hard to figure out.
I have been dropping hints about the next song on Twitter but I do not want to ruin the surprise of the larger project. But for the record:
– It's a parody of a hit song from the 80s (and this is the first 80s song we've parodied, even though we met in an 80s cover band).
– The original band lost its lead singer due to health issues (and probably a few other factors too). He later healed and went on to a career as an in-demand jingle singer. You have heard him since and didn't know it.
– My Variax guitar settings were Lester bridge, but I believe the original guitarist used an Explorer.
– 18 tracks in our recording, run time of 4m22s. I could not get all 18 tracks onto the screen at once but it looks something like this: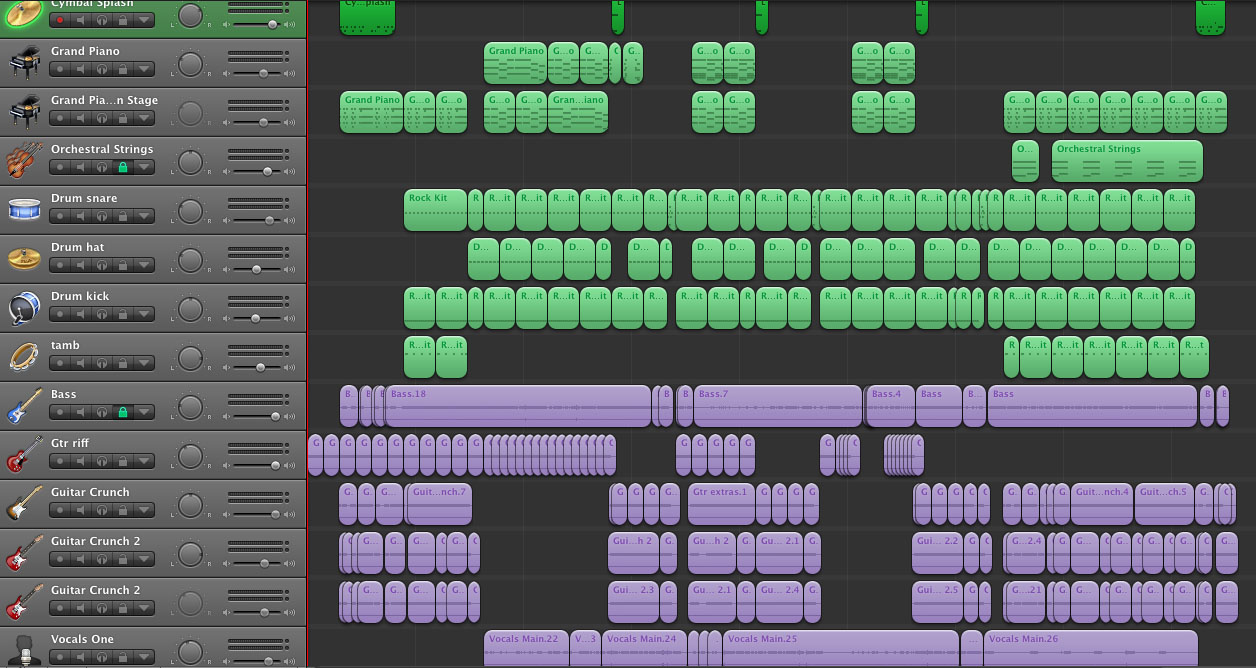 Stay tuned. ETA (with an accent on the E) is late Friday.