Hey, everybody. Time flies when you're not paying attention, and sure enough, it's the one-year anniversary of Princess Leia's Stolen Death Star Plans. To celebrate, we have a free download and an exciting announcement.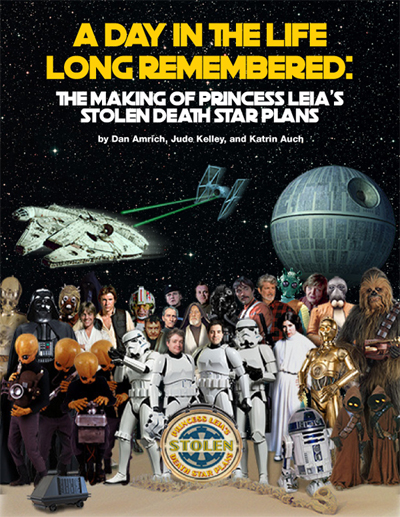 First, the free download. Jude, Kat and Dan had been taking notes during the making of the project, and Kat has created a 25-page PDF that serves as the definitive making-of document. So if you really want to know how this all got started, what instruments we used on different tracks, or you just want to hear whether your favorite moment was planned from the start or merely a happy accident, help yourself to a free digital copy of A Day in the Life Long Remembered: The Making of Princess Leia's Stolen Death Star Plans — just click on the image and enjoy.
Now, the announcement thing. Since the release of the album, we've had a few people ask us when we'd be playing this album live. The problem — aside from Jude living on the East Coast and Dan living on the West Coast — is that we don't want to do a live show unless we can go all the way. Two guys standing on stage with a bunch of computers replicating all these complicated parts and calling it a live show is not what we want to do. Many other bands have performed Sgt. Pepper live, even if the Beatles never did, so it's not like it can't be done — but we decided that if we're going to do it, we want a proper harp and string quartet for "He's Leaving Home" and multiple saxophones on "Keep Moving Keep Moving" and a full symphony orchestra on "A Day in the Life of Red Five." So, you know, that kinda kills the project right there — it's not like there are awesome orchestras just lying around, right?
Well, it turns out there's at least one — and it's literally the Awesöme Orchestra in the Bay Area. We're working with conductor David Möschler to make a live performance of PLSDSP a reality, with a plan to perform the album in its entirety later this year. We're currently working out the numerous details but we hope to have a time and place announced soon so everyone who wants to come see this one-night-only performance will be able to plan ahead.
We would not even be dreaming this extended dream if it were not for the incredible support from you. From word of mouth to considered feedback to using the #PLSDSP hashtag to generous tip jar donations, the outpouring of kindness and enthusiasm for this project has been and continues to be extremely gratifying. Thank you for caring about this as much as we did, and thank you for continuing the spread the word. We'll keep you posted; in the meantime, may The Force be with you.