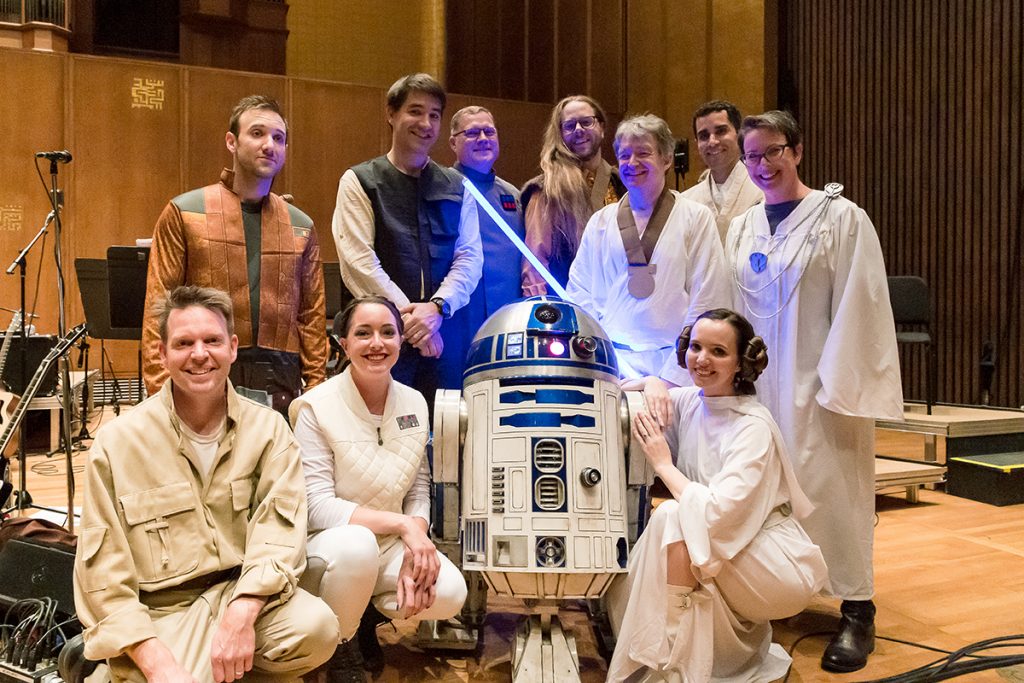 Last night's live performance of Princess Leia's Stolen Death Star Plans with Awesöme Orchestra Collective was everything we'd dared hope it might be — an inspiring night of making music for and with an audience, taking our silly idea to its unlikely sophisticated conclusion. We were thrilled at how it went, and we can now confirm that there is no better way to make your live debut as a band by playing with a 90-piece orchestra. Really not bad for our first gig.
Several special thanks are in order, as unlike the album, this was not a two-person project:
– Katrin Auch, producer, costumer, videographer, and the third Ninja
– Sandy Smith and Rachelle Rabin, who captured photos and video in real time
– Our extended band family of Travis Kindred, Anthony Martinez, Mike Christie, and Brad Marasco
– "The Fab Four" harmony vocalists Hannah Wolf, Erik Smith, Stephanie Dowling & Blythe Renay
– David Möschler, Brian Adam McCune, Baily Hopkins and the rest of the amazing folks at Awesöme Orchestra Collective who actually provided a functional answer to "where the hell do we find an orchestra?"
– Brendan West, who made Hertz Hall possible and then made Hertz Hall sound glorious
– John Thompson, who built and operated our one true celebrity, R2-D2
– Doug Lilly and Juli Gamble, who ran check-in even though they'd barely unpacked their things after moving to the area
– Philip Wolf, for the awesome help in front and behind stage
– Our sponsors, Coherent Blue Software and This Old Game, whose support ensured everybody who attended left with a full-color program that included all the lyrics
– Steve Marinucci & Andrew Gilbert for the kind words in the press
– Tony Baldini, whose illustration for our fundraising t-shirt and mini-posters turned out incredible despite our commission coming at a terrible time in his workflow
And of course, we appreciate everyone who gave this event time, money, or attention. To us, it's like we haven't shut up about it for six months, but we knew we had one shot at this, and we really did need all the help we could get! So if nothing else, thank you for enduring our fundraising campaign. We were not only able to cover our costs but we'll be donating the additional funding directly to AO so they can continue their musical adventures around the Bay Area.
We will release much nicer photos, audio, and video as we get them cleaned up and edited, but here are a few of our behind-the-scenes shots — they do not do justice to the energy in the room and the positive, collaborative spirit of everyone involved.
Our hope is to release the concert as a live album, free as usual. Watch this space. We're going to take a nap.