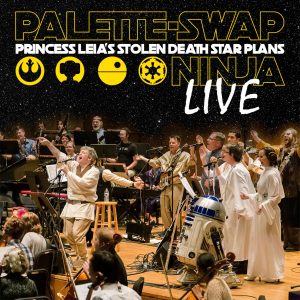 Good news! The PLSDSP live EP is being mixed & we expect to have the recording out to donors this month. Public release (for free of course) will follow a few weeks after that.
And yes, it's unfortunately just an EP. We had unrecoverable recording errors on the second half of the show, so this will just be the first 5 songs and a little bit of video. There is a little orchestra in those first five tracks, but not a ton, which is disappointing. It is definitely better than nothing, and doing a "one night only" event meant we were always running a risk of something going wrong. And hey, it did!
All the more reason to do it again, right? Alas, we just can't afford that; we used the donations to do it once, and we gave the remainder to the Awesöme Orchestra Collective as promised. Maybe someday we can make it happen, knowing what we know now!
Anyway, stay tuned to your mailboxes shortly if you are a donor, and set your calendars for early May for the public release! (And how pretty is the cover, featuring photography by Sandy K, Smith?)