In addition to kind words about our so-called "business" cards, we've gotten some very nice compliments on our songs, and occasionally, they come with comments like "I would buy your songs if you sold them" or "I'd like to support you guys in some small financial way, but there's nothing on the site to that effect." Hmm.
We don't sell the songs. For one, that's not why we do it. For two, even though we believe we are legally safe under parody laws, we figure we are flying under the radar by giving it away for free. We considered one of those PayPal button things, but that seemed…uninspired. And all we really want is for you to tell your friends about us.
Hey, I know…t-shirts!
Armed with the new toon ninjas and the fresh 3D logo, Kat whipped up a few designs that we thought you might not be embarassed to wear. Zazzle is cool because you can change it around — if you want a different color or style of shirt, you can customize it until it's something you would want to buy. Like for instance, Dan decided he wanted to do the 3D logo in Scorpion yellow but on a maroon shirt. And the moment he put it on, he was struck with creative inspiration, as you can see: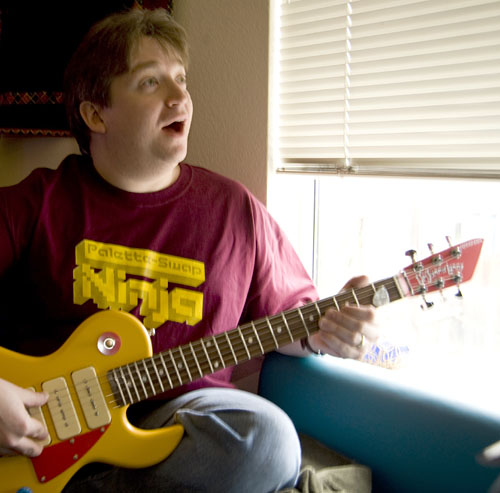 So, successful closed beta. That works.
Right now, there's the four colors of the 3D logo, a variation on the toon ninjas, and a special shirt with some of the "Halo" lyrics on the back, in dark or light. (Plus the prerequisite mousepad, for people who do not wear clothing.) If you're feeling really spendy, we made an embroidered hoodie, but that was basically for ourselves and we don't expect anybody else to buy it (but if you do, use the coupon SPRINGZAZZLE for $5 off orders of $45 or more until the end of June). We're skipping crap like aprons and tote bags, but if there are other items you would actually like to buy with our logo on it or variations on the existing designs, just let us know. (A new shirt will unlock shortly after the new song appears this week.)
We think this solves the "support" problem nicely. We make a (very) tiny bit of cash on each shirt sold through Zazzle. More importantly, with you as our walking billboard, it gets the word out at LAN parties and comic book stores across the country. So by getting a shirt, you are supporting us twice — once by buying it, once by wearing it.
And if you don't wanna do either, well, the songs are still free and we still love you.