Happy Star Wars Day 2019 (a little early)! Two years ago today, we released our Beatles/Star Wars parody Princess Leia's Stolen Death Star Plans and it turned out a lot of people liked it. Then we wanted to perform it live, so last year we put out a call for help, support, and most of all, money so we could perform the entire album at Hertz Hall with the Awesöme Orchestra Collective. And we not only put on the show, but we managed to donate a good chunk to the non-profit orchestra as well, thanks to our donors! We also recorded that performance as both audio and video. The good news is that the recording is ready for public release! The bad news is that it is not as complete as we'd hoped.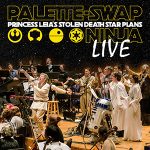 Unfortunately, our audio recording suffered from an unrecoverable error after the 20-minute mark, and we didn't get nearly as much usable video footage as we'd hoped. As a result all we have to share is a 5-song EP (through "Imperial Holes"). This is definitely better than nothing but definitely a disappointment, and we had intended to document the entire night (including encores of "Leia Organa" and the giant "Hey Jude" singalong with the orchestra and audience). But fate had other plans, so we're taking what we can get and passing it on to you! Here are the MP3 and FLAC versions — we hope you enjoy either or both!
A side note: Due to the fan-tribute nature of this work, we still can't offer this project through major streaming services like Spotify or Amazon Music, but we appreciate all the folks who like it enough to want it there. We will continue to post our content for download here on our Music page and streaming at http://soundcloud.com/paletteswapninja.
We are also releasing these songs in video form. The footage we got wasn't optimal (would you believe Dan accidentally turned off one of the cameras? LOL), but these two videos it should serve as proof that we did, in fact, pull this off. Feel free to share these videos on social media if you like what you see. Those are at http://youtube.com/paletteswapninja or you can just watch them here in a YouTube playlist:
The live performance was a very special event for us, and it seems unlikely that we will ever get the chance to perform with an orchestra again, but we would love to work with any local organizations that feel up to the challenge. And if Princess Leia taught us anything, it's that we always have hope!
Thanks for everything, spread the word, and MTFBWY!