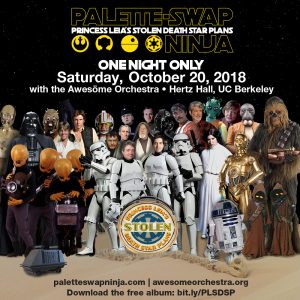 Here's the info you've been waiting for! On Saturday October 20 we're performing all of Princess Leia's Stolen Death Star Plans live — with the full power of the Awesöme Orchestra Collective.— at Hertz Hall at UC Berkeley. And we need your help in making it happen!
Performing the album live with a full orchestra is something we might only get to do once, so Jude and I really want to make this everything we feel it can be. Hertz Hall was designed for symphonic music — it will sound phenomenal — and we want to have the show recorded in both audio and video formats, which we will release publicly at a later date. So to make all of that happen, we've come up with a three-prong, one-time fundraiser:
DONATE: If you just want to donate a few bucks, we have an account on PayPal  — anything helps! All donors will receive a download link for the live recording of the show in advance of its public release, and your names will be included in the credits (if you want that). So please make sure you include your email of choice somewhere in there — we'll assume it's your PayPal address unless you say otherwise.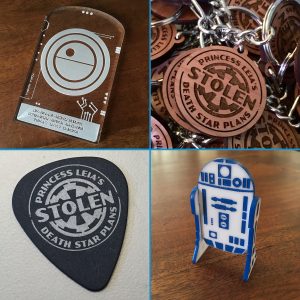 VIP TICKETS:
UPDATE: VIP & VIP Plus tickets are no longer available — thank you for the enthusiastic support! Standard free seating is still available on a first-come basis. Doors open at 6pm! 
If you plan to attend in person, we're setting aside the first few rows at $20 per seat. If you donate $20 through PayPal and specify that you want a "VIP ticket" (please note if you're planning to attend with friends or family, you can get as many $20 premium seats as you want until they're gone), we will have a VIP list at the door with your name on it. And if you really want to shoot the works, a super-generous $40 $30 gets you a literal front row seat second row seat plus a souvenir packet including a laser-cut PLSDSP keychain, a desktop R2 model, some PLSDSP guitar picks, a custom replica of the infamous plans themselves, and other goodies that we are still putting together. There are only a limited number of these special seats, so claim your "VIP Plus" package early! Same email contact rules apply — let us know where we can send you a link to the recording when the time comes.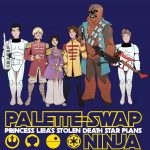 LIMITED EDITION T-SHIRT: If you cannot attend but you like getting physical stuff for your donation, we are selling a limited-edition t-shirt which will only be available for the duration of this fundraiser. It features a commissioned illustration by Tony Baldini of Lightning Dogs fame. (Since Spreadshirt doesn't show us your email when you order, you'll need to drop us a note with your order number so we know how to send you a download link later.) More info on the shirt is here.
All the funds we've received so far from the release of the album are being applied to our costs here, but it's not quite enough. That said, any funds we raise in excess of what we need to cover our costs go to the Awesöme Orchestra. Nothing will be wasted and we will not take advantage of anyone's generosity. We just can't pay for all of this out of pocket.
We've put together an amazingly talented band with players and singers from around the country, plus the Awesöme Orchestra is appropriately named. They will also perform selections from John Williams' film score as part of the show, and we have a few other fun things planned too. The venue seats more than 600 people, and the show will be appropriate for all ages. Cosplay is strongly encouraged! A splendid time is guaranteed for all.
We are thrilled that we get the chance to perform the album live, and we are committed to doing this as well as it can be done. If you can help — either by donating some money or simply spreading the word about the event and the fundraiser — please do. It's deeply appreciated. Here's the Facebook event if you'd like to share a social media reminder for the event, and to spread the word about the fundraiser, just send folks to this page, please!
We can't wait for October 20!